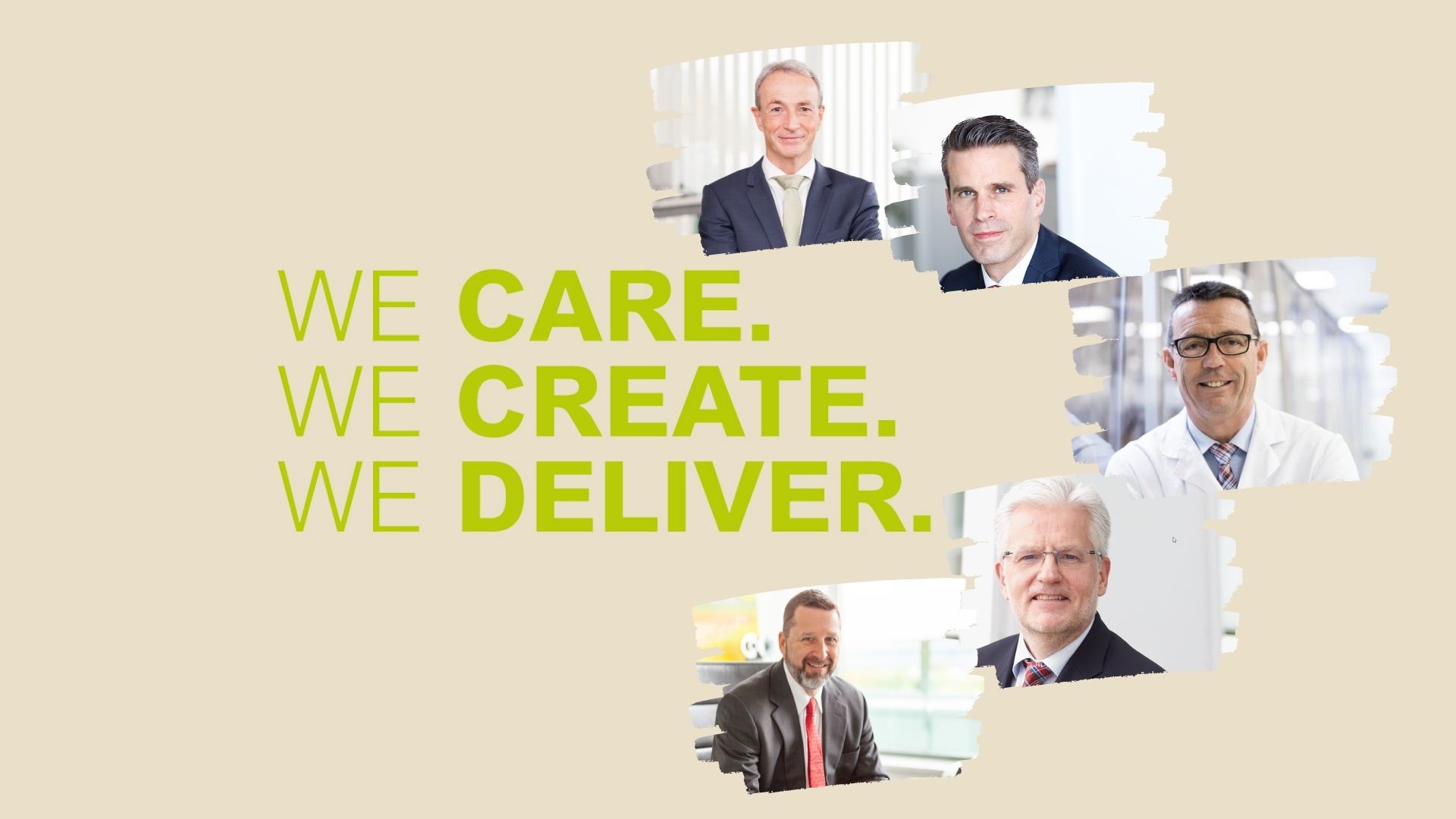 We CARE. We CREATE. We DELIVER. Unsere Bestimmung.
For many people the pandemic has been a catalyst for some defining decisions about what their future purpose in life should look like. A sense of purpose has always been important to both individuals and organisations, however, now more than ever, it feels like a fundamental priority.
Indeed, in a recent study conducted by the University of Pennsylvania1, it was reported that people who have a greater sense of purpose experienced less loneliness and made better lifestyle choices during the pandemic.
This clarity of purpose is equally important for the success and stability of organisations. A study published by Harvard Business Review2 revealed that companies with a clear and universally understood purpose experienced better than average growth, with 52% of purpose-driven companies witnessing more than 10% growth compared with 42% of non-purpose-driven companies.
At LTS, we recognise the importance of a clearly defined purpose, one that we believe differentiates us from our competitors and uniquely captures the intent of our people. Here we talk to some of the leadership team about what that purpose means to them and why they see it as being of critical importance to the future of success of the organisation and those who work within it.
"I know we can make truly great things happen".
"As individuals we begin each day with purpose, focusing on the tasks and challenges that lie ahead. When a clear and compelling purpose unite an organisation and harnesses the talents and energy of individuals, truly great things can happen. This is what I see here at LTS where We Care, We Create, We Deliver defines our purpose and drives our actions every day."
Dave Doles, President and Chief Executive Officer of LTS Corp., USA and Member of the Global Leadership Team has a very clear interpretation of what the purpose means…
"We care about the patients and customers that we serve. For me, knowing that every day the lives of millions of patients is in some way made better because of LTS puts meaning behind everything we do. That care extends to our employees, their families and our communities who make everything we do possible.
We create because we are never complacent. We believe we can always deliver better technology to treat patients, more effectively offer value to customers, or a create better ways to protect our employees and the environment. I see this spirit of creativity as a founding cornerstone of LTS that continues today and will help drive our success well into the future.
We deliver. This is how we build trust. Whether it is the trust of our customers, the trust of our owners, or the trust among our fellow colleagues, earning and maintaining trust is the LTS way. Every day I feel proud as I watch teams throughout the company striving to meet and exceed expectations.
For both individuals and organizations, growth and success is never easy. There are always challenges along the way. To overcome challenges and achieve our goals, commitment to a clear purpose is essential. With a commitment to care, to create and to deliver I know we can make truly great things happen."
"I am proud that we produce medicines that make people's lives better"
Resilience has been one of the worlds' buzzwords during past 18 months and it is fair to say that a great many individuals as well as businesses have had to become much more resilient. Referring back to the research published in the Harvard Business Review, 43% of those organisations that have prioritised a compelling purpose state that an important element of that purpose is the 'galvanizing (of) employees to persevere through challenging situations'. Here, Ulrich Sielaff, Chief Legal & HR Officer and member of the Global Leadership Team, reflects on the importance of personal and team resilience in realising long term success.
"We are very passionate about what we do, and we need to be because our success is often not visible immediately; it often requires a lot of patience and perseverance. Sometimes success only comes after years. Our motivated teams stick together, creating an environment where everyone can contribute and realise their potential, individually and collectively. This requires true teamwork and real resilience.
"I see it as my personal obligation to offer all colleagues a place in which they can grow to achieve our common goals, creating the best possible environment for success."
"Our purpose reflects our sense of collective responsibility to each other, our customers and their patients"
Michael Hoffmann, Chief Operating Officer and Member of the Global Leadership Team, shares his perspective. "LTS has always been a very special family, and I am proud to have been a part of it from the start. Over the years I have met many particularly motivated and loyal colleagues who have contributed to the success of LTS. Even in the most challenging of times, our strong sense of community has enabled us to move froward. As a result of this embedded level of trust, friendships, both internal and external, have emerged. Friendships, together with mutual respect and trust that will continue to be important in how we deal with each other in the future."
"The development of our core competences has been pivotal in realising our purpose. The close integration of pharmaceutical and technical development, in-house mechanical engineering, and an agile operations team has made a demonstrable difference by collectively and intimately understanding the needs of customers and the motivations of colleagues. We have created a remarkable culture that delivers high levels of added value for our customers and their patients. All underpinned by a commitment to, and demonstration of, quality not often seen in organisations of our size."
"The future holds all kinds of exciting challenges for us. As well as maintaining our existing business, we must develop new products, technologies, and services to continue to live up to our claim of being a world market leader. Together we will develop sustainably and successfully to shape the fortunes of LTS and continue to best support our commitments to our stakeholders"
"It all starts with care"
"If the pandemic has taught us one thing it is that we should not forget to care about ourselves and our families."
Dr. Hanshermann Franke, SVP R&D and Member of the Global Leadership Team, explains what We CARE, We CREATE, We DELIVER means to him…
"Professionally, for me at least, CARE means ensuring that LTS remains a successful company that provides both job security and an attractive workplace. I am convinced that security and wellbeing are the basis upon which we as a team can fully embrace our opportunities and further drive innovation for the benefit of our patients' everyday life."
"To CREATE, we must permanently think about how we can improve, and this isn't just related to technical or production targets. It is also about how can be creative in developing new ideas. Creativity starts with a clear view of where we are, what can we do better and how can we improve."
"Having an idea is one thing but it only becomes tangible once we start to transform that idea into a product, a new process, or a new way of working. This is what we at LTS have stood for since our inception in the 80s. It means standing firmly behind our strategy and fulfilling our creative potential to DELIVER the promised results regardless of the hurdles that might come up."
"I am deeply convinced that our promise will make the difference for us in the future."
"This is deeply personal"
"Knowing our strategy helps us understand what we want to do. Understanding our purpose connects us to why this is important. Our purpose gives us our core motivation to give the best that we can, every day." We will leave the final word on our purpose to Bas van Buijtenen, CEO, who has a very personal interpretation of We CARE. We CREATE. We DELIVER…
"When we are working on innovations with our customers, I see our colleagues showing a level of emotion, of passion, that goes beyond the ordinary. When I talk to them about that it's clear they are thinking of a loved one, a friend, a family member, someone who would benefit from the therapy we are developing. I too feel this way because I know people who are fighting a condition where our innovations could massively improve their quality of life. In those moments, I feel a deep sense of commitment to deliver for them. This job is more than work. It is deeply personal."
1 Purpose in Life, Loneliness, and Protective Health Behaviors During the COVID-19 Pandemic
Yoona Kang, PhD, Danielle Cosme, PhD, Rui Pei, PhD, Prateekshit Pandey, MA, José Carreras-Tartak, BA, Emily B Falk, PhD. https://academic.oup.com/gerontologist/article/61/6/878/6298550
2 https://hbr.org/sponsored/2015/10/the-business-case-for-purpose