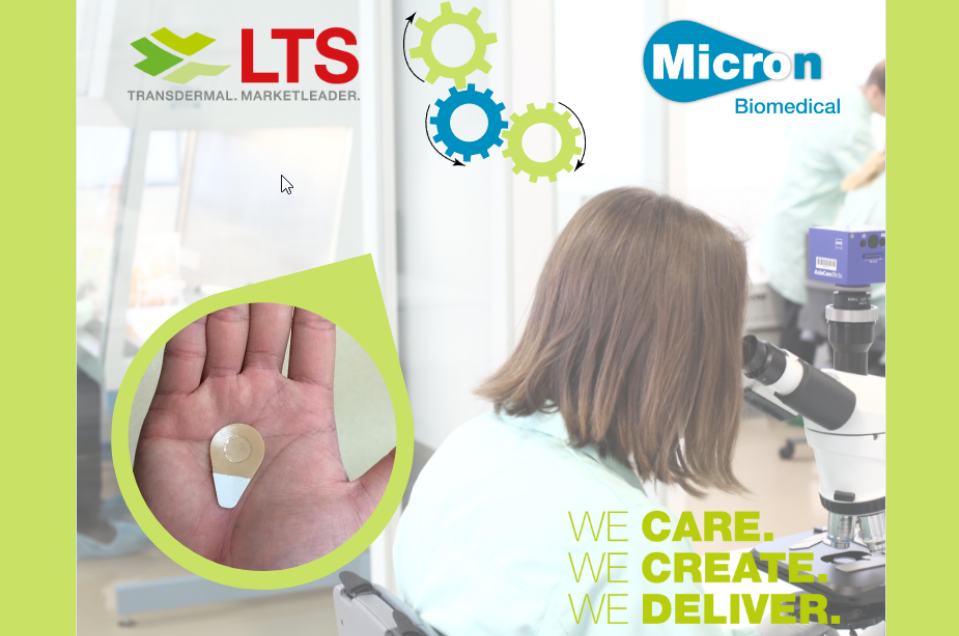 LTS and Micron announce collaboration for commercial manufacturing of Micro Array Patch (MAP) technology
Andernach. November 28, 2022 – LTS LOHMANN Therapie-Systeme AG (LTS) and Micron Biomedical, Inc. (Micron) have entered into a technical transfer and scale-up agreement for Micron´s Micro Array Patch (MAP) technology. Under the terms of the agreement, LTS will invest into the appropriate manufacturing infrastructure to produce Micron's MAP technology in the future while this investment will also support LTS´s MAP program which will continue in parallel as a proprietary product line of LTS. In the context of this agreement LTS is jointly leading the Series A financing of Micron.
Micron, located in Atlanta, GA. USA is a clinical stage life sciences company on a rapid path to commercialize its proprietary applicator-free, dissolving, Micro Array Patch technology.
Micron's MAP technology is well suited for delivering a wide range of compounds including nucleic acids, peptides, proteins, and viruses (inactivated and live-attenuated). The benefits of Micron's MAP technology include the potential to enhance the efficacy of drugs and vaccines, ease of use enabling self-administration and administration by less skilled caregivers, sharps-free waste, thermal stability, small size, thus simplifying storage and distribution with the potential to have product mailed to people's homes or available to pick up at the pharmacy without needing a professional to administer. These benefits render Micron's MAP technology especially well-suited in case of a pandemic.
LTS is a leading pharmaceutical technology company that develops and manufactures innovative drug delivery systems such as Transdermal Patches ("TTS"), Oral Thin Films ("OTF") and Micro Array Patches (MAP) for major Bio- /Pharmaceutical, Generic, and Consumer Health companies. The LTS MAP platform enables more patient-centric future therapies. It is based on dissolvable microneedles which makes it a perfect choice for vaccines as well as biopharmaceutical products. Preliminary results of clinical studies conducted by LTS indicate superior tolerability of MAP technology by patients as well as increased immune response in case of vaccines and superior efficacy compared to traditional parenteral applications
Bas van Buijtenen, CEO of LTS, comments: "Today we announce an exciting next step in the fulfillment of our purpose: We CARE, We CREATE, We DELIVER. Our agreement with Micron underlines the conviction and the commitment of LTS to provide access for patients to the ease of administration and efficacy of Microneedle Drug Delivery, in the developed as well as the developing world.
Our vision is to be the commercial manufacturing partner for Micron, and for our partners with our own proprietary MAP program, in therapeutics as well as in vaccines. I am excited to partner with the strong leadership team at Micron. The successful Series A offering recognizes the progress and promise of their technology and provides them with strong backing to take it into commercialization. I am looking forward to working with Steve Damon and the rest of the board, and to contribute to their success.'
As part of the partnership, we announce today, we intend to build a micro-needle manufacturing campus, that will bring the technology from clinical into commercial manufacturing."
Steve Damon, CEO of Micron says: "Micron's collaboration with LTS allows us to meet our commercial manufacturing scale-up goals and bring Micron MAP products to market for the benefit of patients globally. LTS' leading commercial manufacturing capability is the perfect fit for Micron. We look forward to a productive collaboration and to the successful commercialization of Micron MAP technology based products."
About LTS
LTS LOHMANN Therapie-Systeme AG is a leading pharmaceutical technology company that develops and manufactures innovative drug delivery systems such as Transdermal Patches ("TTS") and Oral Thin Films ("OTF") for the pharmaceutical industry. LTS´ commercial offering encompasses more than 20 marketed products and a diverse pipeline of more than 30 development projects targeting multiple disease indications. LTS's innovation pipeline contains both partner-funded as well as proprietary, LTS-funded projects. LTS maintains its leading position through the continuous refinement of its core TTS and OTF technologies and by advancing emerging drug delivery technologies, including Micro Array Patches (MAP) for the transdermal delivery of large molecule, biological actives. Founded in 1984, LTS operates today from three sites: in Andernach, Germany, West Caldwell, NJ, USA and St. Paul, MN, USA. LTS has also a representative office in Shanghai, China.