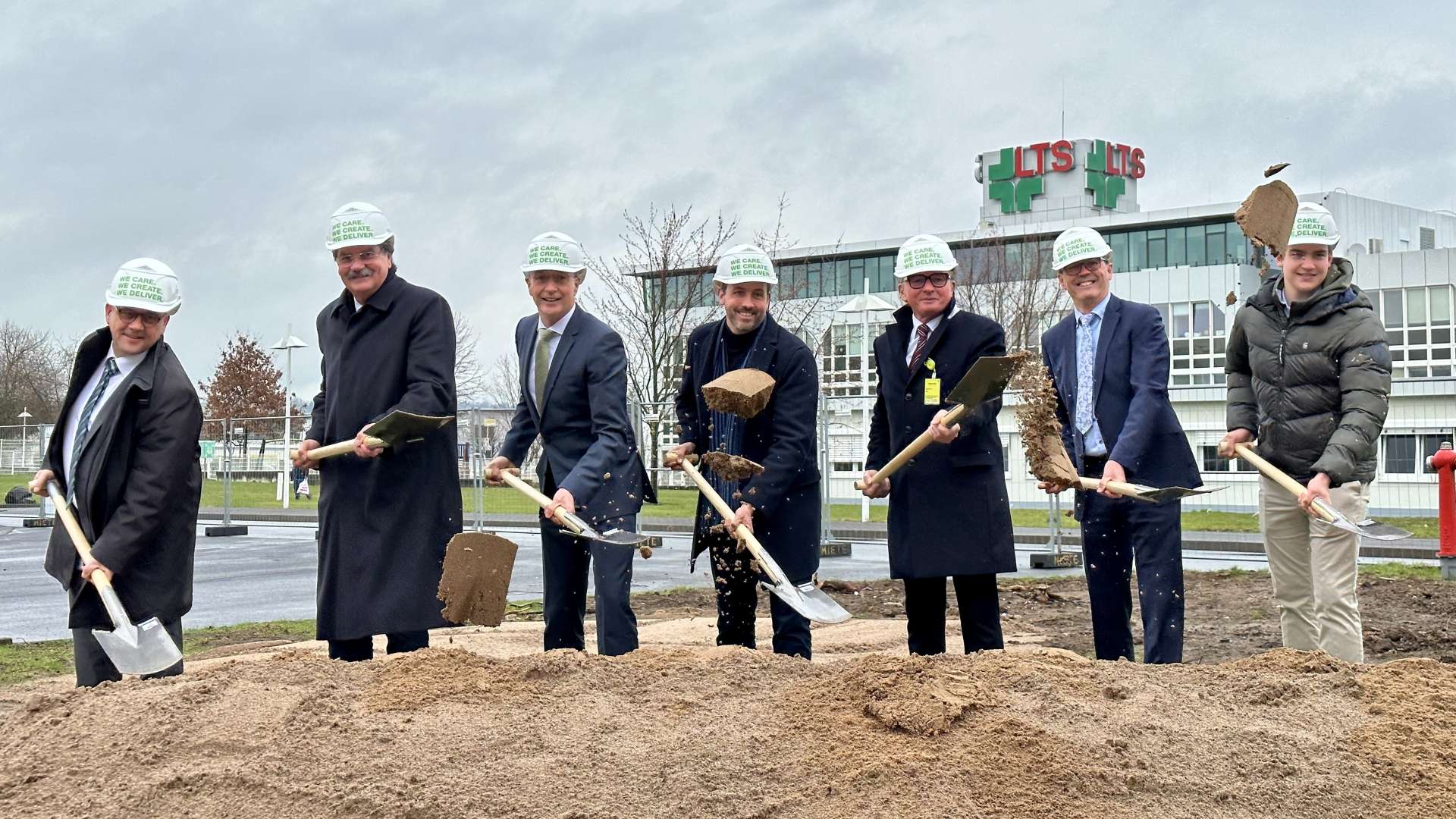 Investment in the future:
Ground-breaking ceremony for the new LTS technical centre
Andernach, on 21 March, board members of LTS LOHMANN Therapie-Systeme AG (LTS) together with the outgoing mayor of the city of Andernach and his successor performed the groundbreaking ceremony for the future LTS Technikum. This is another building block in a whole series of investments that will keep the Andernach site highly modern and fit for the future. In addition to the new Technical Center, expansion areas are being created for LTS production. The building and energy supply will be constructed in accordance with the latest energy standards.
The new LTS Technical Center offers space to bring together expertise from pharmaceutical development, technology, and manufacturing. Here, new developments and solutions to problems are developed for external and internal customers. The premises provide the developers and engineers with plenty of space to develop future technologies and make them marketable. A large, inviting showroom offers customers and visitors the opportunity to gain an insight into the latest developments at LTS, as well as space for creative exchange, presentations, and discussions.
Part of the building also holds space for the expansion of production, because LTS is counting on further growth. The investment volume for this 7,250 square meter building project is around 30 million euros.
Michael Hoffmann, Board Member and Chief Operating Officer, comments: "We are proud to have taken the first step towards a new milestone in the history of LTS with this ground-breaking ceremony. The LTS Technical Center will make an important contribution to securing market leadership in our market segment."
To construct a modern, energy-efficient building that meets the latest standards, careful planning is required. Here, LTS was supported by the planning office Dittrich from Neustadt (Wied).
The ground-breaking ceremony marked the start of a construction phase lasting about 2 years. The LTS Technical Center is scheduled to start operations at the end of 2025.
About LTS
LTS LOHMANN Therapie-Systeme AG is a leading pharmaceutical technology company that develops and manufactures innovative drug delivery systems such as Transdermal Patches ("TTS") and Oral Thin Films ("OTF") for the pharmaceutical industry. LTS´ commercial offering encompasses more than 20 marketed products and a diverse pipeline of more than 30 development projects targeting multiple disease indications. LTS's innovation pipeline contains both partner-funded as well as proprietary, LTS-funded projects. LTS maintains its leading position through the continuous refinement of its core TTS and OTF technologies and by advancing emerging drug delivery technologies, including Micro Array Patches (MAP) for the transdermal delivery of large molecule, biological actives. Founded in 1984, LTS operates today from three sites: in Andernach, Germany, West Caldwell, NJ, USA and St. Paul, MN, USA. LTS has also a representative office in Shanghai, China.
Contact
Dr Iris Schnitzler
iris.schnitzler@ltslohmann.com